Last night I worked on painting the outside of the dresser. I got one coat of chocolate brown on everything. I ran out of time to get a second coat done. Funny, my husband likes to have dinner. And I have a meeting tonight so I'm not going to be able to finish until tomorrow. I could've probably gotten a second coat done last night if I'd rushed but I wasn't happy with the brush marks I was seeing. I've read about using Floetrol to reduce brush strokes. I've never used it, I've just gone with however my project turned out. But since this dresser is going in the living room and is smooth wood (vs the barnwood doors I've painted or the trim that has a bit of a pattern) I want it to look nice and smooth. So I think I'm going to pick up some Floetrol on my way home tomorrow. Anybody have any experience with Floetrol? Did you love it, hate it, don't care?
So, since I'm at a temporary standstill on the dresser due to my work schedule today I've been thinking about drawer pulls. (My husband makes fun of how I say pull, he never understands what I'm saying). I've just been looking at Lowes online for ideas. I want something that will not make the dresser look like bedroom furniture. I'm also kind of anti drawer pulls that stick out on the ends. When I was in middle school, yes middle school, I ripped my overalls pocket on the drawer pull in my mom's kitchen because they stuck out on the ends. Man, I loved those overalls. I don't have a picture, but trust me, they were super stylish.
These are some of the ones I'm liking...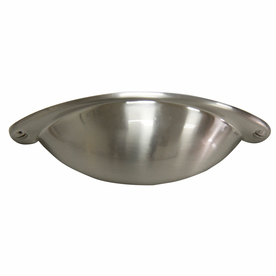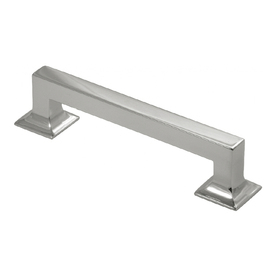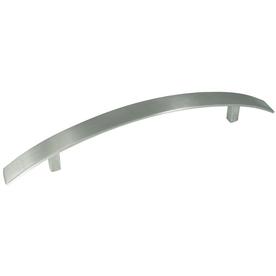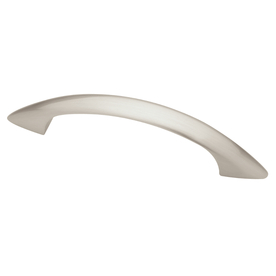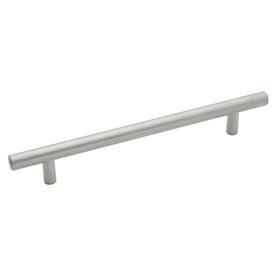 I realize the last one has the ends that stick out that I said I didn't want. But, it's so sleek and pretty. So I may just have to be a grown up and keep my clothes away from the drawer pull. And the more I look at it, the less I like the fourth option. And number two kind of reminds me of a bathroom towel bar. So I guess it's really between 1, 3, and 5. What do you think?
Anybody else out there replacing furniture hardware? Or have problems ripping their pants on cabinet pulls?