So it's possible that I'm already very much in the Christmas mood. I may have bought a Christmas CD on the way to work this morning. No, I didn't stop specifically to buy the CD, I had to buy candy for some of my elementary kiddos. And I needed nail polish remover. But I somehow forgot to buy needles so I could sew a button back on my husband's shirt. Fail. Anyway, back to Christmas.
This year I'm changing my decorating color scheme. For the past.... ten years I have done gold and burgundy. My best friend and I had the same tree color scheme for the longest time. The burgundy always matched the living room because I always had that unfortunate pink couch. Well we bought new furniture and I painted the back of the built-ins turquoise so it's time for a new color scheme for the tree too. We're going silver and gold. I'm pretty excited about it. I'm also cheap. So I'm going to try spray painting the old burgundy ornaments. I'll probably buy a few new silver ones too.
I'm also planning on making some of these guys.
I have pinned so many cute little cone Christmas trees. They're going to look great on my mantle. I can't wait to make them.
I'm also thinking about making my tree skirt. I'm not 100% sure on that one though. It may be a little more ambitious than I want to tackle though. I really keep going back to the idea of a fur Christmas tree skirt. Not real fur obviously, but you know like soft fuzzy fake fur. So we'll see. I guess it depends what I find and how much it is.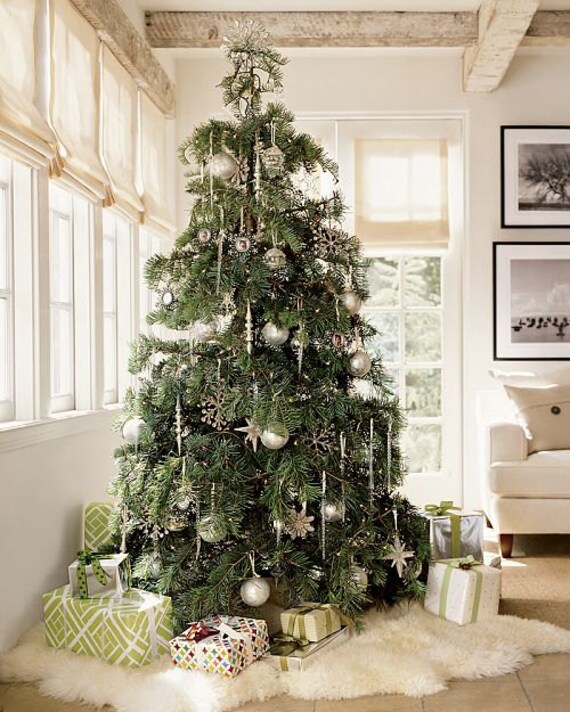 So pretty, right? I don't think I'm making any new wreaths for our house this year. I made two new ones last year so I'll probably just use those again. I am planning to make one for my mom and maybe my husband's grandma. I probably should get on that so I could bring them at Thanksgiving.
Anybody else getting excited for Christmas? Or already planning decorations and craft projects?