Progress! I made progress! Last night I cleared off our table in the front hall. There are no before and after pictures. Just picture a pile of mail vs no pile of mail. I think I may put a vase of flowers and a bowl for keys on the table instead of the tray that's there right now. The tray encourages the piling. So if there are pretty things in the way, maybe we will be less likely to pile. Here's hoping.
And I cleaned out one of the kitchen cabinets. My cabinet with pots and pans drives me crazy. It's not a very big cabinet and I have a lot of pans -- muffin pans, mini loaf pans, cake pans, and cookie sheets. Things are always crashing down on me when I open the door. Or more accurately, sliding out on my toes. Not cool. So, this is what we started with.
Before
Okay, that is just ridiculous. And yes, that's a deviled egg plate in with the baking stuff. I know it doesn't make sense. To be perfectly honest, I had already pulled the pot lids out because I had a plan. In the end, I pulled everything out. And I had a plan. I'd seen a couple of ideas how to better store my lids.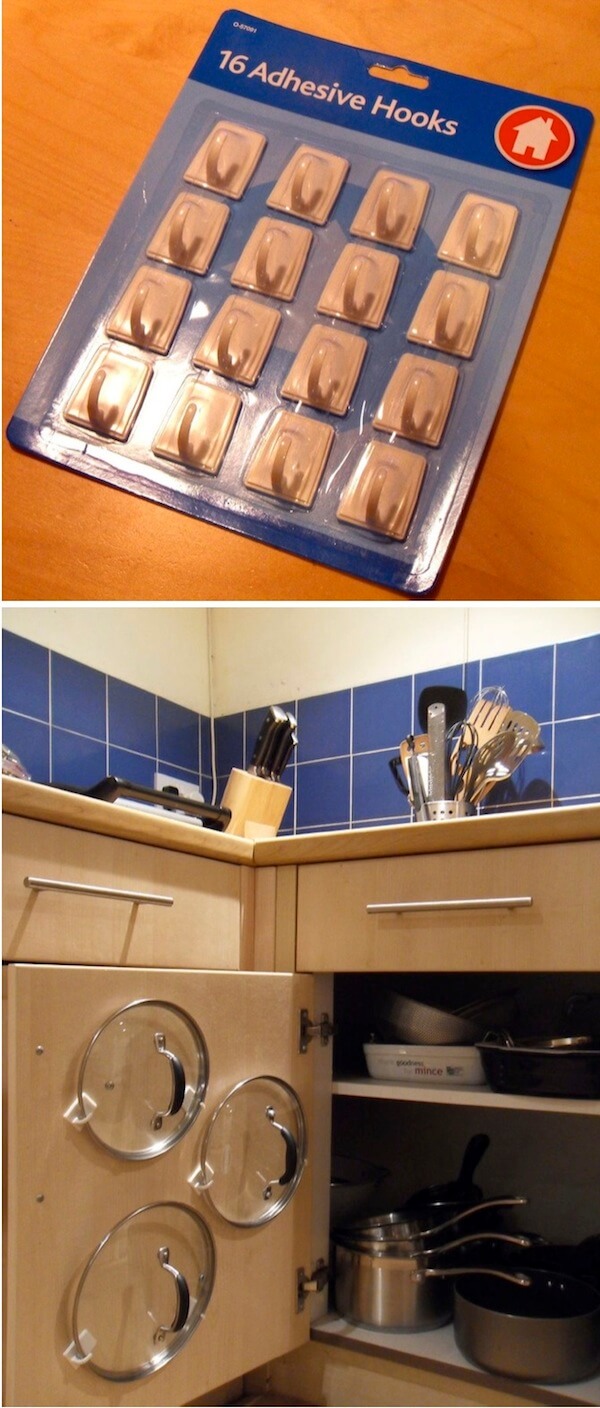 I really loved the first picture with the rail, just resting the lids inside. Perfect and beautiful. However, the doors on that cabinet are fairly narrow and that just wouldn't have worked at all. So I went with the hook method. I grabbed a couple packs of hooks at Dollar General, spending a grand total of $2 for this improvement. I just held the pan lids on the door and positioned the hooks. Perfect. And it makes it so much easier to store and access my pots and pans without things crashing down on my toes.
Ignore the saw dust. I need to vacuum my cabinets, my drawer sheds saw dust every time I open it.
On the top left, I stacked muffin trays together. Then the mini loaf pan is next to those. Cookie sheets of the same size stack together. Larger items -- big cookie sheets, a platter and cutting board are stacked in order of convenience. And another cutting board and collapsible collander lean against the right side of the cabinet. On the bottom shelf are other baking pans -- a deep dish pizza pan, three layer cake pans, and an angel food cake pan. On the back right area ll my skillets and the rest of the pots go in front. I think this is a system I can work with and keep up. Hopefully.
How do you organize your pots and pans? Any great systems I should try out? Or do you pans crash down on you too?