So, those wild and crazy kids over at
YHL
are challenging us all to actually make something we've pinned. I like to think I'm already good at this. I tend to look for things to pin that I have plans of making in the future. Not that I'm the perfect Pinterest user, cause I'm not. Anyway, I love pinning and making things. So I'm participating....
So, technically I think this was supposed to be a new project. But I had two sweet projects sitting around that I had totally forgotten to post. Like I had to flip back through all my pictures and blog posts to make sure these were not repeats because I was totally sure I had already shared these projects because I was so in love with them.
In case you were wondering, this post could've been alternately titled "If you liked it you should've put a wreath on it." Okay, maybe not as funny to other people as me, but I thought it was clever. Anyway. Here's inspiration for Wreath #1.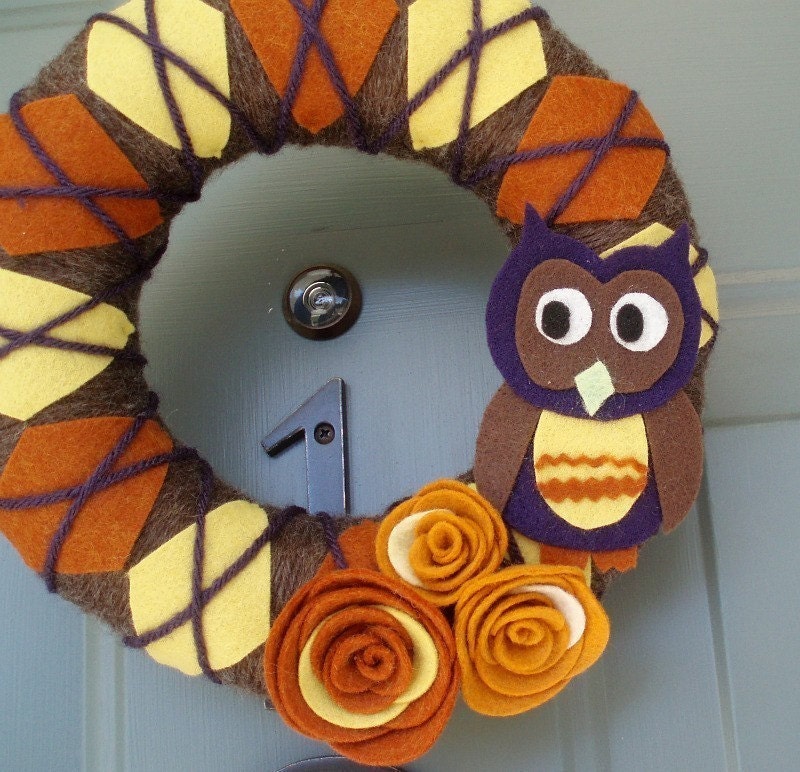 Super cute, right? I feel like I looked at tons of argyle wreaths when I was actually making mine. For some lame reason though, I only pinned one though. I had aspirations for mine being more elaborate. I wanted to add a bunting and maybe a tiger head. But, still it hangs on my door in it's plain black and gold wonder (we're Mizzou Tigers fans if you're curious)
This wreath did not start life this cute though. My husband picked me up a wreath at Hobby Lobby because I wanted a cute fall wreath. I wrapped it with orange yarn and made some felt flowers. Well, it sucked. But, in an attempt for full honesty, this is the wreath on my front door last year. Here ya go.
So ugly, right. I came to my senses. We also painted that ugly dull blue door red. Anyway. Back to the pretty pretty argyle.
Most argyle wreaths you look at, the yarn that crosses over the diamonds is all the same color. This has to be easier than alternating colors. I ended up doing a separate piece of yarn for each X and then using straight pins to attach it. That's also how I attached the diamonds. I had bought fabric glue which really turned out to be Elmer's glue in a bottle that said fabric glue. It didn't stick my felt down at all. So, I got creative. The pins are tiny are barely noticeable.
A shot a little further away of the wreath hanging on our front door. I'm strongly considering painting my outside doors turquoise. My husband said he was okay with it. I'm still consider it.
And now, wreath #2. I pinned the first one because I thought it was fun and quirky. Then my sister said she'd like one for her birthday so I had to do a little more Pinterest research. So, I guess grown ups call these Pom Poms. When I was a kid we called them Warm Fuzzies. So, I prefer to call them Warm Fuzzy wreaths. Here's my inspiration....
And here's where I went with it. Initially I hadn't posted it because it was my sister's birthday present and I couldn't risk her seeing it until after her birthday. Then I guess I forgot about it. But, here it is. It kind of reminds me of a muppet. And I spent hours, mostly while watching footballs, tying pom poms (or warm fuzzies if you prefer) to tie onto my wreath. I used a straw wreath. I left the plastic on and then wrapped it with white linen-y fabric that had been cut off window curtains that I shortened. Then I just cut the string that tied the warm fuzzy together long enough to tie around the wreath.
I snapped a picture of the wreath before I gifted it. The colors weren't really that bright. It was something about it being dark outside and taking a picture on our dark colored chair.
And this is the wreath hanging on my sister's front door. I was pretty happy with how it turned out.